Subscribe to the Daily News
Stay up-to-date with what's happening across International Geneva. News, information and events, delivered to your Inbox each morning. 
Every day, receive between three and ten links to everything you need to know about what is happening in International Geneva. The Daily News is a selection of articles (from media, OI, NGOs, public authorities) about humanitarian, public health, trade or human rights issues in Geneva. The selected articles are mainly in English and French. 
Subscribe by filling out the form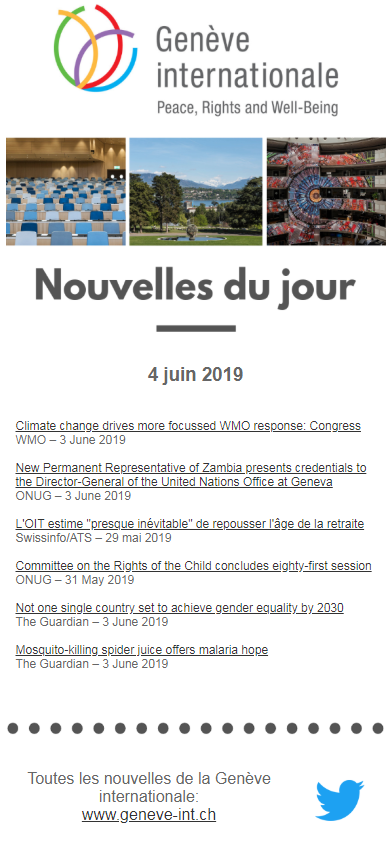 The "Nouvelles du jour" newsletter  is issued by the Office for International Geneva, a service attached to the presidential department of the State of Geneva. You receive this letter because you have expressed an interest in receiving information when registering on the website www.geneve-int.ch. The data transmitted for the registration to the newsletter will not be used for a purpose other than the distribution of the said newsletter. This personal data will not be transmitted to third parties other than the external provider responsible for the distribution of the newsletter.
In particular, pursuant to Article 37 of the Cantonal Act on Public Information, Access to Documents and Protection of Personal Data, of 5 October 2001 (LIPAD, RS / GE A 2 08), the State undertakes to take (and to have its subcontractors take) all necessary precautions to preserve the security of the data collected, and in particular to prevent them from being distorted or damaged, or that unauthorized third parties have access to them. People on the newsletter mailing list can withdraw their entries at any time, access their data or have them updated by clicking on the links below or by sending an email to geneve-int@info.ge.ch.
The registration for the newsletter does not entail any obligation. It is also stated that this distribution list is hosted by an external supplier of the State, on a machine located in Switzerland. All necessary precautions, in accordance with the usual measures, are however taken to ensure the integrity and confidentiality of the data in its possession, in particular to prevent unauthorized access to it by third parties.
The purpose of the newletter is only informative and the documents selected do not necessarily reflect the positions of the State of Geneva. Regarding copyright, the general conditions of use of the official website of the State of Geneva apply.